Sorry for the delay in the new blog... it's your editor's fault not Jeff's. The good news is a couple of books are on their way.
Here's Jeff's latest blog from inside the box. They'll be another one on Saturday that continues his fascinating - but troubling - story about lock-up.
Click on the pages of the letter below to read them full screen.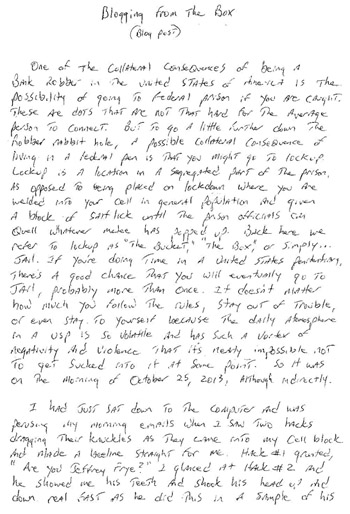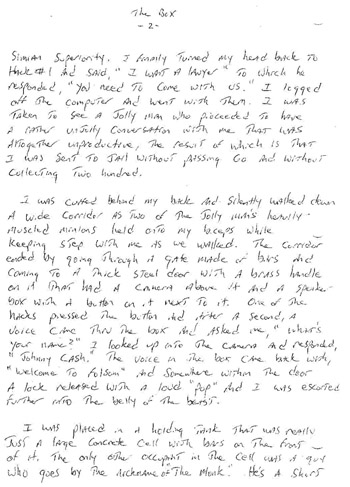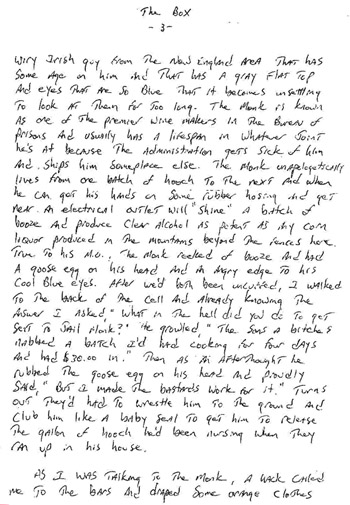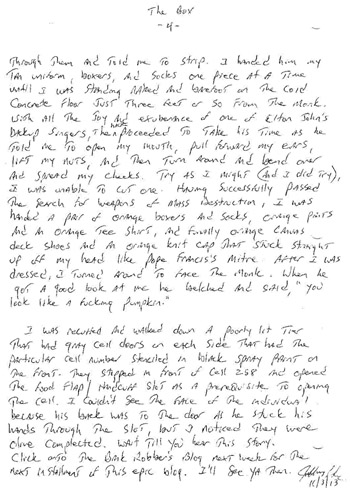 Jeffrey P. Frye
murderslim.com
Bank Robber's Blog
bankblogger.weebly.com
@bankblogger2
--- THE GOOD, THE BAD AND THE UGLY ---
2nd November 2013
Prison is a lot like Las Vegas in that what happens here should for the most part stay here. When I do these blogs, I usually refer to people by nicknames that are sometimes their own, and sometimes ones that I've pulled from the sarcastic ether and pinned on them because they seem to fit that particular individual. I don't mention the names of the cops or prison officials or mention anything related to the security of the places they've dragged me into because my goal here is to entertain you, and not to swat at the hornet's nest and piss off the people who feed me. As various wardens and captains have taught and re-taught me throughout the years, they can pretty much do whatever they want to me...including making me disappear.
So I blog about my life; The Good, The Bad, and The Ugly, and I try and give you guys a peek into my world and show you that even though I'm a dumb old Bank Robber who forgot to wear a mask and you're not, and even though you're out there and I'm back here, life has distinct similarities no matter who you are or where you live. All lives are filled with good, bad, and ugly.
I do these blog posts by hand in my cell. I have a stiff piece of cardboard stashed under my bunk that has green writing printed on it and that used to be the side of a case that rolls of toilet paper comes in. When I'm ready to write, I'll fish it out and lay it across my lap to serve as my writing board and hold my pad while I sit Indian style on my bunk. Then I strap on my MP3 and cruise.
I write in double-spaced margins so I can go back in and make corrections and pepper the blog with the spicy adjectives and verbs that make up the etymology of Bank Blogging. Who wants to read "The Warden was a fat guy" when they could read, "Warden Slither was a man of vast acreage"? It's all about using words to give you my eyes. When I'm finished refining a blog it usually resembles a schematic for a rocket. Then I take it out to the computer and type it in and hit "Send" and send it on its way to Murder Slim Press as I say, "Fly...fly away little blog post." Okay, maybe that was a little dramatic, but I think you get the picture.
I would imagine that you people out there think that us people back here do nothing but sit around and scheme. Although there's certainly plenty of time for that, everybody back here is expected to have a job and work between the hours of 7:30 am to 3 pm Monday thru Friday. They announce "Work Call" after breakfast and the cell block usually empties as all of the miscellaneous miscreants meander towards their mundane prison jobs. Some even shuffle while they slouch. The jobs pay anywhere from .12 to .25 an hour and if you don't have a high school diploma you stay at the lowest pay grade until you get one. Your paycheck posts once a month on the computer. It's a cashless system in the feds. At USP Lewisburg I used to be an Environmental Cleanup Specialist, Grade II. Another way to phrase that is that I cleaned showers for .18 an hour.
Here at USP Hazelnut though, I continue to remain gainfully unemployed. There's way more people than there are jobs, so any time that a job opening becomes available several people apply for the same position. I applied for a job last week that consisted of emptying trash cans in the education building. I was interviewed by a man with a red shiny face who had a flat-top haircut and a name like Mr. Flinty. He looked like the kind of guy who doesn't have a wife and hangs out at a sports bar waiting on the next free bowl of popcorn to be slid down the bar. He wore a tight pair of khakis and a tight rugby shirt that probably fit him five years and 300 beers ago. Mr. Flinty was all business and asked challenging questions throughout the 15 minute interview. I didn't get the job. They gave it to a crack dealer who had prior janitorial experience (selling cocaine to janitors?). Do you have any idea what it does to your self esteem to not only be denied the opportunity to empty trash cans for .12 an hour, but to also be bested my a crack dealer who has "Nigga Please" tattooed on the side of his neck? Nigga please, indeed.
So for now, I'll continue to wander around Las Vegas and pull out my piece of cardboard and use it to occasionally pull bricks out of the wall that surrounds my life these days so that you can peek into my world for a while, and hopefully I'll entertain you in the process.
Good, bad, or ugly, it sure beats emptying trash cans.
Jeffrey P. Frye
murderslim.com
Bank Robber's Blog
bankblogger.weebly.com
@bankblogger2