Here's a picture sent by Jeff of Sister Margo, who's mentioned in a number of his posts.
Jeff's currently in lock-up with two mice for company, and he's still battling some medical issues.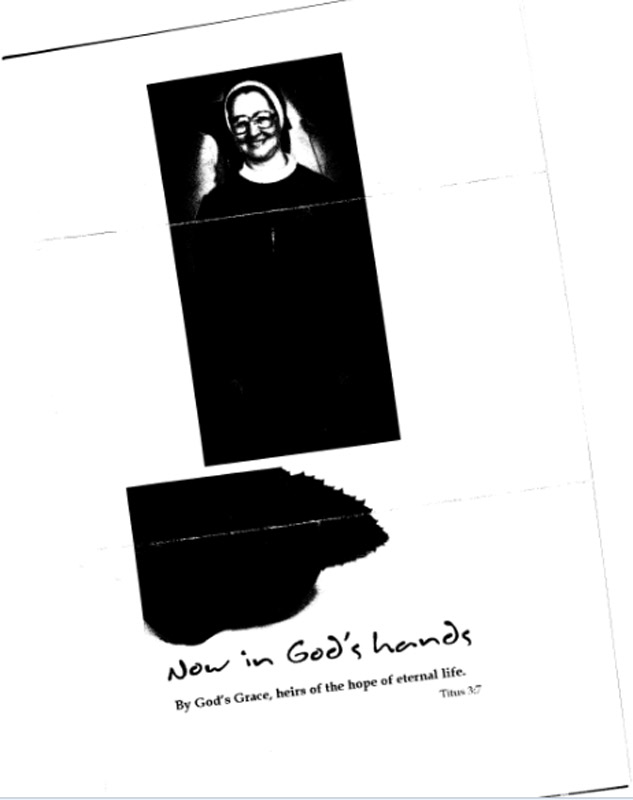 Jeffrey P. Frye
murderslim.com
Bank Robber's Blog
bankblogger.weebly.com
@bankblogger2
--- CON AIR ---
13th May 2013
Prior to coming to prison I was fortunate enough to have the occasion to travel. In my life I've drank rum as I watched a bullfight in Torremolinos, Spain, and played poker with communists in Cuba; I've had a spot of tea with the ambassador at the American embassy in Djibouti, Africa, and had an in-depth conversation on philosophy with a fat prostitute nicknamed Humpty Dumpty who sat on a wall in Naples, Italy; I've shopped in a souk and smoked hash in an alley in Amman, Jordan, and sailed by the Rock of Gibraltar; and I've hung out in the Caribbean on an island named Montserrat and watched the musician Sting record a few tracks there at a place called Aire Studios. I've hitch-hiked, rode on buses, boats and trains. I've flown red-eye, Mile High, first class and coach. But until I became a Bank Robber I never had the misfortune of travelling in handcuffs before.
The United States Marshals Service is the government agency that tracks fugitives, handles security for federal courthouses, and is in charge of the transportation of federal inmates. The marshals I've met throughout the years have been nice enough guys, but I prefer my bus drivers and pilots to not carry a pistol or a taser. On any given day throughout the year while you are going about the business of your lives the U.S. Marshal is transporting thousands of federal inmates from Point A to Point B using tricked-out Greyhound buses and airplanes. There's a couple of main "Hold-over" prisons in the country where you deplane right into the prison and shuffle in handcuffs and leg-irons into a phalanx of marshals to be unshackled. Then you're herded into a holding pen to wait to be processed and are given a bedroll, a bag lunch, then told what housing unit you'll be going to. You may stay there a day, a week, or a month waiting to catch another bus or plane to your next destination. But if you manage to seriously piss off the marshals you could find yourself being transferred from facility to facility across the United States for months or years on end. The marshals call this Diesel Therapy. I transferred here to USP Lewisburg from a federal pen in Florida. While I don't recommend travelling in handcuffs and leg-irons (it's almost as bad as economy class), I have to admit that I had a pretty good time flying Con Air. I don't get out much these days so it was kind of nice to meet some of the other loony birds in the cuckoos nest.
On the morning I left the pen in Florida they woke me up at 4 a.m. to catch a plane at eight. Me and another guy that was transferring were told to report to a place in the administration building called Receiving & Discharge. I was then stuffed into a holding cell and ended up sitting on an uncomfortable steel bench next to a guy I coined Halitosis Harry because he had breath that was kicking like Jackie Chan. Who takes a trip without first brushing their teeth? Halitosis Harry, that's who. A short time later we were cuffed and shackled and then placed on a bus that had been modified with bars on the inside of the windows and dark tint on the outside so people couldn't glimpse the transient convicts inside. The marshal driving the bus had Ludicrous pumping through the sound system and I sat next to a nice bespectacled Colombian money-launderer named Luis.
The bus was taken to a special runway at an airport where a dozen or so armed U.S. Marshals were posted on the tarmac. The plane was a generic 727 and we were herded into a line and taken up the stairs to the plane one by one. As the Marshal/Stewardess From Hell helped me onto the plane holding me by the crook of my elbow I asked him, "Will there be a movie on this flight?" This made him grrr and he squeezed my arm. As I shuffled through what should of been the first class section but had been modified to a quasi Sky Marshal's Lounge, I looked down into the plane and all I saw were Latin faces. I asked, "Where are we going, to a World Cup event?" This got me another squeeze.
The marshal dumped me into a seat that was directly behind a row of convict girls that were also in transit. These were definitely no supermodels. The girl directly in front of me was white with long brown hair and had the mischievous gleam in her eye that is indigenous to girls who are frisky. She was slightly fluffy, undoubtedly from a steady diet of prison rice and potatoes, as well as the absence of methamphetamine. She turned around and eyed me like I was the hotbar and in a Southern drawl said, "My name is Tammy. You're kind of handsome." I responded, "You've got a good eye, Tammy." This made her squeal like a little piglet. She fidgeted in her seat for a minute and then said, "Aren't these handcuffs uncomfortable?" I replied, "The travel agent didn't mention any of this." This made her grin like a possum. I intentionally cracked this joke so I could get her to smile and see how many teeth she had. I counted five, but they looked well taken care of. Being a typical nosey female she said, "You look pretty normal. What did you do to get yourself put in prison?" Without missing a beat I said, "I killed my wife on The Concorde." She smirked and in a Tammyesque twang said, "Shut up." We made small talk for the rest of the flight and swapped inmate numbers and agreed to do lunch if we could ever get out.
Seven days, two prisons, 1100 miles and one Tammy later, I deplaned on a Pennsylvania tarmac to a U.S. Marshal holding a shotgun and a placard that said, "Frye. The Big House." I was then muscled up onto yet another bus where the driver had some Kenny Chesney rocking through the speakers and I was seated next to an unrepentant crack dealer named Jemaine. We cut-up and cracked jokes as the bus ambled through the countryside of Central Pennsylvania. I stopped laughing though when we came over a hill and I saw the prison rising up from the earth looking like Castle Greystoke. The 30 foot stone wall and eight gun towers around this place are enough to take away anybody's sense of humor.
I was manhandled off the bus and dragged into the prison and unshackled, stripped, and made to pass through a full-body scanner by a Hack/TSA Agent From Hell then given a mesh bag that had a bedroll, another bag lunch, a roll of toilet paper, and a small bar of soap that looked like it had been stolen from Motel 6. The hack said, "You're in cell 311 in A Block" then he pointed down a dark tunnel towards some stairs and said, "It's that way." I eventually found the main corridor and cleared the metal detector coming into A Block and found my cell. The same cell I now sit in as I write this post. I put the mesh bag at the foot of my bunk and climbed onto it and immediately fell asleep on my sheet-less mattress. I was suffering from jail-lag.
As I said, I can't say that I had an entirely unpleasant time flying Con Air. But next time I think I'll just book a cruise.
Jeffrey P. Frye
murderslim.com
Bank Robber's Blog
bankblogger.weebly.com
@bankblogger2
--- BOSTON STRONG ---
6th May 2013
Another blog post from the depths of Lewisburg's lock-up. Let's hope Jeff will be a little more free soon, and the transfer to another prison will go through.