THE BANK ROBBER'S BLOG
JANUARY 2015
--- WELCOME TO THE JUNGLE ---
25th January 2015
I was sitting at my desk wearing a pair of long gray sweats, a white wife-beater, and a gray knit cap as the song I SHOT THE SHERIFF by Bob Marley played through my speakers. I was using the edge of a plastic mirror that I'd broken in half to dice onions for the pizzas that I was in the process of making. A Cuban friend of mine named Loco was sitting on my bunk as I did this, and he was thumbing through an educational magazine called Buttman.
The desk is at the back of my cell and is blocked by my locker, so if you walked by out on the tier and looked in, you couldn't tell what I was doing. The officer working in my cell block tonight is a woman, and as she walked by and glanced in it must've ate her alive that she couldn't see what I was doing, because she backed up, opened my door, and walked in my house, and said in a suspicious tone, "What choo doin' Frye?" I said, "I'm doing 20 years, Ms. Simmons. What CHOO doin'?" She glanced around the cell, then said, "You got any contraband in here?" I nodded, and said, "My whole life is like one big contraband seminar, Ms. Simmons, but if I'm doing my job correctly...you'll never find it." She smiled real big, and went, "Yuck! Yuck! Yuck!" That's how she laughs. She yucks it up.
She was feeling chatty, and she reached out and picked up Shorty Morgan's frogitat that was sitting on top of my lock and she shook it, and said, "Why you keepin' weeds in that thing, boy?" When she shook it, I saw grass flying, and Shorty rolling around on his rock with his eyes all big looking at me like "Do Something!!!" I jumped up and said, "Whoa!!! Be easy with that thing, gurl." She scrunched up her face to where her top lip was touching her nose, and said, "What that is?" I replied, "You don't wanna know. Just go on with your life. It's better that way." She shook her head so hard that her wig almost came off and said, "No. No, sir. I wanna know what's in there. Right now." I said, "Okay, you wanted to know" and I pulled the lid to Shorty's house off and moved the rock. Shorty was stuck to the side of it and he gave her the Big Eye. When she saw him she yelled, "YIKE!!!" and jumped back. I told her, "Settle down and stop all that yelling. You'll scare him."
She scrunched up her face even farther to where her top lip was almost covering her eyebrows, and she screeched, "That's a frog!!!" I smiled, and told her, "Not much gets by you. It wouldn't surprise me if they made you Warden one day." She said, "Hush up," and she kept staring at Shorty. She finally asked me, "Are you gonna eat him?" I said, "I beg your pardon? NO I'm not gonna EAT him. He's a house frog." Then I told her, "His name's Shorty Morgan. But be careful because he doesn't like black people." Being as she knows Officer Morgan (a.k.a. Shorty), she just smiled, rolled her eyes, and shook her head and said, "Jesus." To which I replied, "No. It's Shorty." Officer Morgan has large bug eyes that bulge out and go in opposite directions (like the actor Marty Feldman's do). Whenever I'm trying to describe him to somebody who doesn't know who he is, I'll say, " You know, it's the officer with the blue eyes." They'll usually say, "Blue eyes?" and I'll point my thumbs in opposite directions as I say, "Yeah. One blew this way, and the other one blew that way."
Officer Simmons finally lost interest and decided to move on, but before she did, she told me, "When they come in here and catch you with that frog don't you go telling them that I knew about him." I replied, " Tell 'em what? We never had this conversation. Hell, I don't even know who you are." I had two pieces of bread on my locker that I'd liberated from the chow hall at dinner, and as she walked out she snatched them up and threw them in the garbage bag she was carrying around and using to shake down people's cells. She said, "You gotta give up something" and threw them in the bag. I yelled, "Hey! I need those for PB&Js later tonight." She said, "Stop crying, boy, and go play with your frog."
As she walked out of my cell, Loco pointed to a girl in the Buttman magazine, and said, "Dude. That looks like my cousin Conchita." Right after he said this, the song WELCOME TO THE JUNGLE by Guns and Roses came on the radio and I thought to myself, Man, ain't that the truth.
Jeffrey P. Frye
murderslim.com
Bank Robber's Blog
bankblogger.weebly.com
@bankblogger2
--- JE SUIS CHARLIE ---
11th January 2015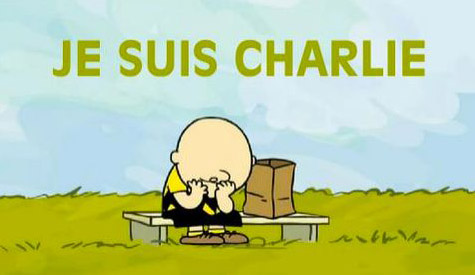 Je suis Charlie. In French, this means ""I Am Charlie." For the last few days this phrase has been appearing in newspapers all over the world such as The New York Times, The Daily Mail, The Copenhagen Post, and Paris Match, to as a hashtag on Twitter (#jesuischarlie). This phrase is being echoed by the international community in support of the 12 souls who were slaughtered in Paris on January 7, 2015 at the magazine Charlie Hebdo. These 12 human beings were murdered by two Muslim zealots because the magazine that they worked for occasionally printed satirical cartoons of the prophet Mohammed. This phrase is also being repeated to let the world know that people refuse to be silenced...no matter who you are, or where you live.
You might think that in 2015 that human and civil rights had evolved to the point where people in democratic societies can publicly speak their opinion on religion without worrying about physical retaliation. Unfortunately, this is not true. Free speech is not free. It comes with a price. It always has and always will.. Just ask a veteran. And people who think that things will change to an environment of diversity and tolerance just because "That's the way that things should be" have seriously overestimated civilization and human nature. Some people are just intolerable.
Not everybody thinks alike. Nor does everybody think that free speech is a God-given or inalienable right. In fact, there's a certain, small, yet very vocal segment of Muslims who believe the exact opposite. They believe that free speech and actions are determined by divine revelation and that the penalty for blasphemy should be execution. This was the opinion recently espoused by radical Muslim cleric Anjem Choudary from London when he blamed the French government for "Allowing" Charlie Hebdo to provoke Muslims with their satirical cartoons, thereby bringing their deaths upon themselves. He said that it's a Muslim's obligation to defend the honor of the Prophet Mohammed...up to the point of executing people for blasphemy (see op/ed piece in American newspaper USA TODAY on 1/8/15). Yes, he said this in 2015.
The Prophet Mohammed was an incredibly loving and non-violent individual. He didn't even like to harm animals. This is an established fact.. What Sheik Choudary does with his defense of the killings at Charlie Hebdo is to take a radical and violent ideology and use it to distort and pervert a peaceful Islamic theology. With statements like this he ultimately disrespects Mohammed, as well as the more than 1 billion Muslims worldwide who not only love and respect Allah and His Prophet Mohammed, but who also love and respect their neighbors. Neighbors who may not necessarily think the way that they do. But as history has shown us, Sheik Choudary's opinion on this subject is nothing new, nor is it confined to Islam. Jesus Christ was crucified by the Jews and Roman some 2000 years ago for the very same thing-blasphemy.
Islam was founded by the Prophet Mohammed about 600 years after the death of Jesus Christ. He was from a city in Saudi Arabia called Mecca, a city that many devout Muslims make a pilgrimage to every year. When Mohammed died in 632 he chose as his successor, or caliph, someone whom he trusted, but who was not his blood relative. This man's name was Abu Bakr. However, there was a certain segment of Muslims who felt that Mohammed should have chosen a man named Ali. This man was Mohammed's blood relative and also was his son in law (he was married to Mohammed's daughter Fatima). This falling out over who should be the righteous caliphate caused a schism in Islam, much in the same way that Martin Luther caused a schism in Christianity when he became disillusioned with the Catholic church and broke from them to form what became the Protestant religion. In Islam, the ones who believe that Abu Bakr was the righteous caliphate are known as Sunni Muslims and represent about 85% of all Muslims. The other 15% who supported Ali's ascension are know as Shia or Shiite. Like Catholics and Protestants who both believe in the Trinity and the second coming of Christ, both Sunnis and Shiites believe in Allah and that His true Prophet is Mohammed. But also like Catholics and Protestants, that's about all they seem to agree on.
However, even though that 85% of Muslims believe one way, and 15% another, all of them end up being effected when violent psychopaths massacre people in the name of Allah and Islam. The people at Charlie Hebdo were killed by two brothers named Said and Cherif Kouachi. Two extremist losers who sought to bring honor to the Prophet Mohammed. They also sought to kill free speech. They failed to do both. What they ultimately did was to bring shame to the Prophet, and end up making sure that some one million copies of the magazine Charlie Hebdo went into circulation, instead of their normal run of 60,000 or so.
In the end, no matter what you do or don't believe, we are all just people. We're all just creatures of a blessed and struggling creation trying to do the best we can to keep it between the lines on any given day. While history has shown that people can most certainly be killed, it has also shown that you cannot kill free speech. To some degree, I'm a perfect example of this. My body may be locked up, but my speech is still free. These words are proof of this. I may be locked away deep in an American prison, and I very well may die back here, but from my prison cell I still share something with the people of France and the rest of the world who refuse to be silenced. Je suis Charlie.
Jeffrey P. Frye
murderslim.com
Bank Robber's Blog
bankblogger.weebly.com
@bankblogger2